Daniel O'Connell
References:

Sources yet to be consulted:

"The O'Connell papers. Unpublished Diary and Letters of Daniel O'Connell". The Irish monthly, multiple issues, 1882 to 1887. (Perhaps mostly or all published in the later collection.)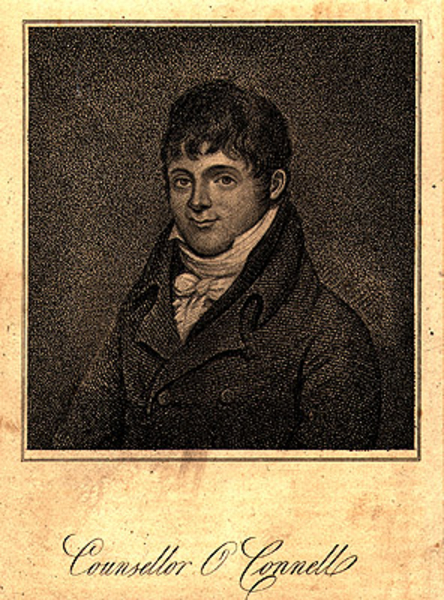 Engraving of Daniel O'Connell as a young barrister,
Dublin Magazine
, March 1813 (O'Connell defended
Rowan Cashel
1816).
See
other version
and
other version
.
Images courtesy of
Cork Multitext Project
, UCC (formerly
here
). Used with permission.
Daniel O'Connell
(see
here
),
"The Liberator",
born 6 Aug 1775,
of
Derrynane
, near
Waterville
, end of Iveragh peninsula, SW Co.Kerry.
Probably the most uncontroversially admired figure in Irish history.
He mar
Mary O'Connell
[descendant of
Edward III
].
He was a barrister.
He defended
Rowan Cashel
in 1816.
Elected MP for Co.Clare in by-election 1828. Disbarred from taking his seat because Catholic.
He achieved
Catholic Emancipation
for Ireland 1829 (under the
Duke of Wellington
).
MP for Co.Clare 1828-30.
He campaigned for
Repeal
.
Lord Mayor of Dublin
1841 (first Catholic Lord Mayor since time of
James II
).
He died Genoa, Italy, 15 May 1847, age 71 yrs.
He was bur
Glasnevin Cemetery
, in probably the most spectacular grave in Ireland - a
full-size round tower
.
He and Mary had issue:
Maurice O'Connell,
born 27 June 1803.
Repeal MP for Co.Clare 1831-1832.
Liberal / Repeal MP for Tralee 1832-1853.
When running for Tralee during the 1832 election campaign, he came into conflict with Arthur Blennerhassett of Ballyseedy. They fought a duel on 30 Nov 1832. No one hurt.
He won election as MP for Tralee in general election, 14 Dec 1832, against Sir Edward Denny, 4th Baronet.
Retained his seat in general election of 1835 against William Denny, of Strand St, Tralee. O'Connell stood against enforced tithes to the Church of Ireland from Catholics. Denny was defending the continued existence of tithes.
He had issue:




John Maurice O'Connell,
mar 1873 to Mary McCartie
and had issue:

Aileen O'Connell,
listed as Aileen in census and death announcement and death cert,
think NOT Eileen,
born 1882 or 1883, Co.Cork,
listed as age 29 in census 1911, age 32 at death 1915,
mar 1903 to Peter Rahilly and had issue.
---
Named after Daniel O'Connell: Think also:

O'Connell St, Sligo
O'Connell St, Waterford