Kings of Leinster
Sources yet to be consulted:
Diarmait mac Mail, King of Leinster and Ireland
(see
here
),
mar
Dearbforgail O'Brien
[grand-dau of
Brian Boru
],
died 1072,
had issue:

Murchad, King of Leinster (see here),
died 1070 (before his father),
had issue:

Donnchad, King of Leinster (see here),
killed 1115, had issue:

Dermot MacMurrough, King of Leinster (see here).
He mar Mor O'Toole.
He abducted Dervorgila, the wife of O'Rourke of Breffni in 1152. Not unwillingly for they were lovers. Known as the "Rape of Dervorgila".
He was deposed.
He went to England to seek help from Henry II, thus inviting the Anglo-Norman invasion of Ireland.
The Anglo-Normans invaded 1169, led by Strongbow and Maurice Fitzgerald de Windsor.
Dermot held Dunamase fort, Co.Laois.
He died 1171, bur in Ferns Cathedral, Co.Wexford.
He had issue [by Mor O'Toole]:
Aoife MacMurrough, Princess of Leinster (see here),
mar Richard de Clare, "Strongbow", 2nd Earl of Pembroke and had issue.




Urlachan MacMurrough,
mar Domnall Mor O'Brien, King of Thomond and had issue.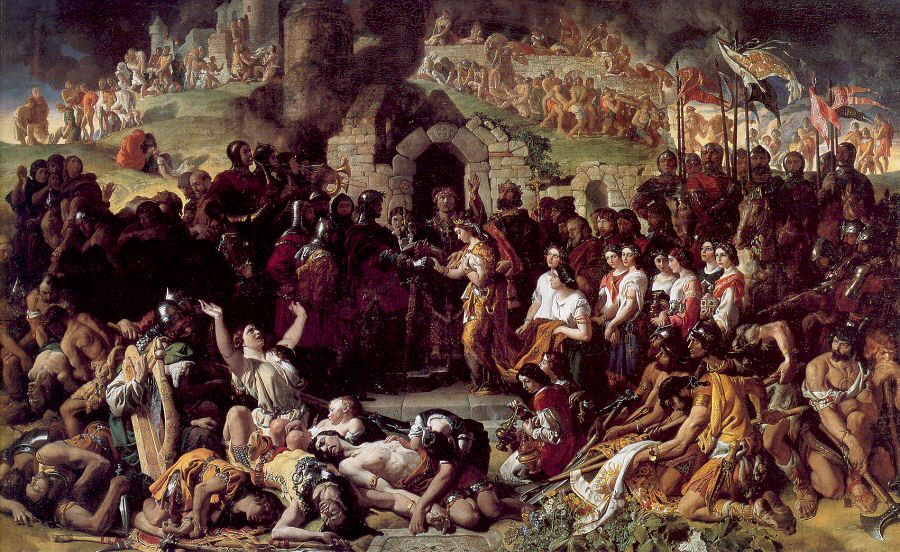 The Marriage of Princess Aoife of Leinster with the Norman Richard de Clare (Strongbow)
by
Daniel Maclise
(1854).
From
Wikipedia
. Also
here
.
---