Dudley, Duke of Northumberland
References:

Sources yet to be consulted:
Street view inside Dudley Castle.
Sir John de Sutton,
mar
Katherine de Stafford
[born c.1340, descendant of
Edward I
],
had issue:

Sir John de Sutton,
born 1361,
of Dudley Castle, at Dudley, on the Staffordshire/Worcestershire border (near Birmingham, see map and close-up).
In the old county system, Dudley Castle was in Staffordshire, and Dudley town was an exclave of Worcestershire within Staffordshire.
Sir John mar Alice Despencer and had issue:

Sir John de Sutton,
mar Constance Blount [daughter of Sir Walter Blount],
had issue:

John Sutton, 1st Baron Dudley,
of Dudley, born 25 December 1400.
He mar 1420-25 to Elizabeth Berkeley [descendant of King John].
Lord Steward 1422.
Lord-Lieutenant of Ireland 1428-1429.
Diplomat and councillor of Henry VI.
He was cr Baron Dudley 1440. Adopted the surname of "Dudley".
He took part in Wars of the Roses. He was wounded and captured, but survived.
Elizabeth died 1478.
He died at Stafford, 30 September 1487, age 86 yrs.
1st Baron and Elizabeth had issue:
Sir John Sutton Dudley, Knt.,
of Atherington, West Sussex,
mar Elizabeth Bramshot,
had issue:



Dudley Castle from a drone.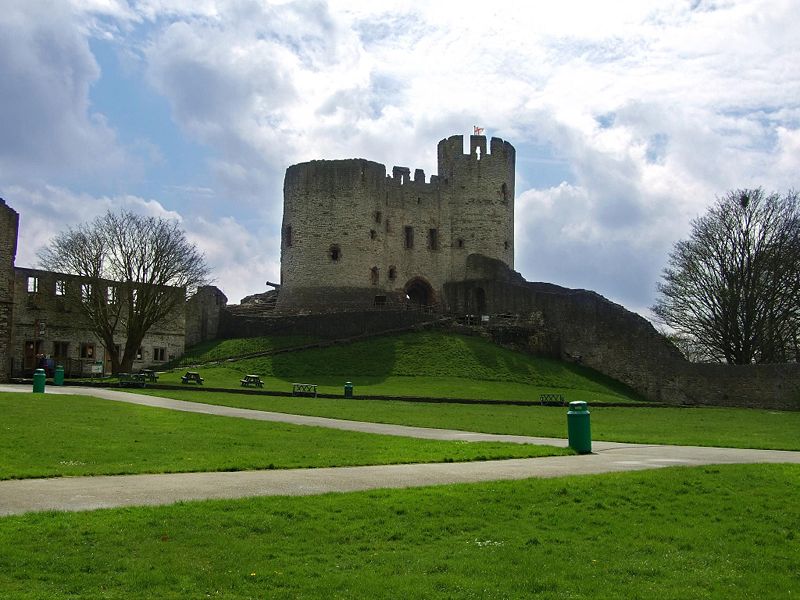 Dudley Castle.
From here.
See more images.
---