de Burgh, Earl of Ulster
There was a claim that William de Burgh descends from
Robert de Burgo
, half-brother of
William the Conqueror
.
But ULSTER in
[Complete Peerage]
disproves this.

William de Burgh,
Anglo-Norman, born c.1160,
arrived in Ireland 1185 (a few years after the Anglo-Norman invasion of 1169),
said to have mar a dau of Domnall Mor O'Brien, King of Thomond [descendant of Brian Boru],
granted Connacht in 1196, but the Normans did not yet control it on the ground,
made Lord of Connacht,
died winter 1205/1206, age c.45 yrs,
had issue:
Richard Mor de Burgh, 1st Baron of Connacht (and here), born 1201.
He launched Norman conquest of Connacht 1226. Took control of a large area. Returned to Dublin in 1228.
Justiciar of Ireland 1228-1232.
He mar Egidia de Lacy.
He came to Galway 1230, but was repelled by the native Irish.
He seized Galway Castle 1232. He re-built it as a stone castle in 1232.
Lost Galway Castle to the Irish 1233. Re-took it in 1235.
Conquest of Connacht complete 1235.
He died on a campaign with Henry III in France, 17 February 1242 (new style year), age 41 yrs.
Richard Mor and Egidia had issue:




Walter de Burgh, 1st Earl of Ulster, born c.1231.




William de Burgh.
He is male-line ancestor of:

Rev. Ulysses Burgh, Bishop of Ardagh,
mar Mary Kingsmill [descendant of Edward I, see descent by Leo van de Pas],
died 1692,
had issue:

Rev. Rickard Burgh, born 1666,
had issue:

Mary Burgh,
mar 1710 to Rev. Thomas Lloyd [born 1690] and had issue.

Thomas Burgh, born 1670,
Surveyor General of Ireland.




Margery de Burgh,
mar Theobald Butler, 3rd Chief Butler of Ireland and had issue.
---
The disproved story of descent from the half-brother of William the Conqueror



Walter de Burgh, Earl of Ulster, under ULSTER in [Complete Peerage].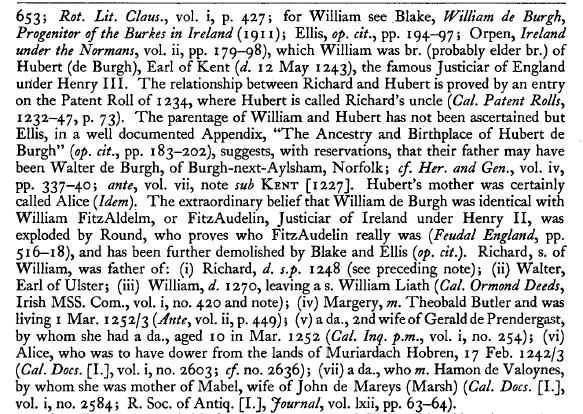 Note (f) from the above, on the de Burgh ancestry.
It says William de Burgh is not the same as William FitzAldelm.
---