New Ballyseedy
This house has had many names.
Elmgrove (or Elm Grove), later Ballyseedy House, later Ballyseedy Castle, later Ballyseede Castle,
On the
Ballyseedy
estate, Co.Kerry.
Seat of Blennerhassett from 1721 to 1967.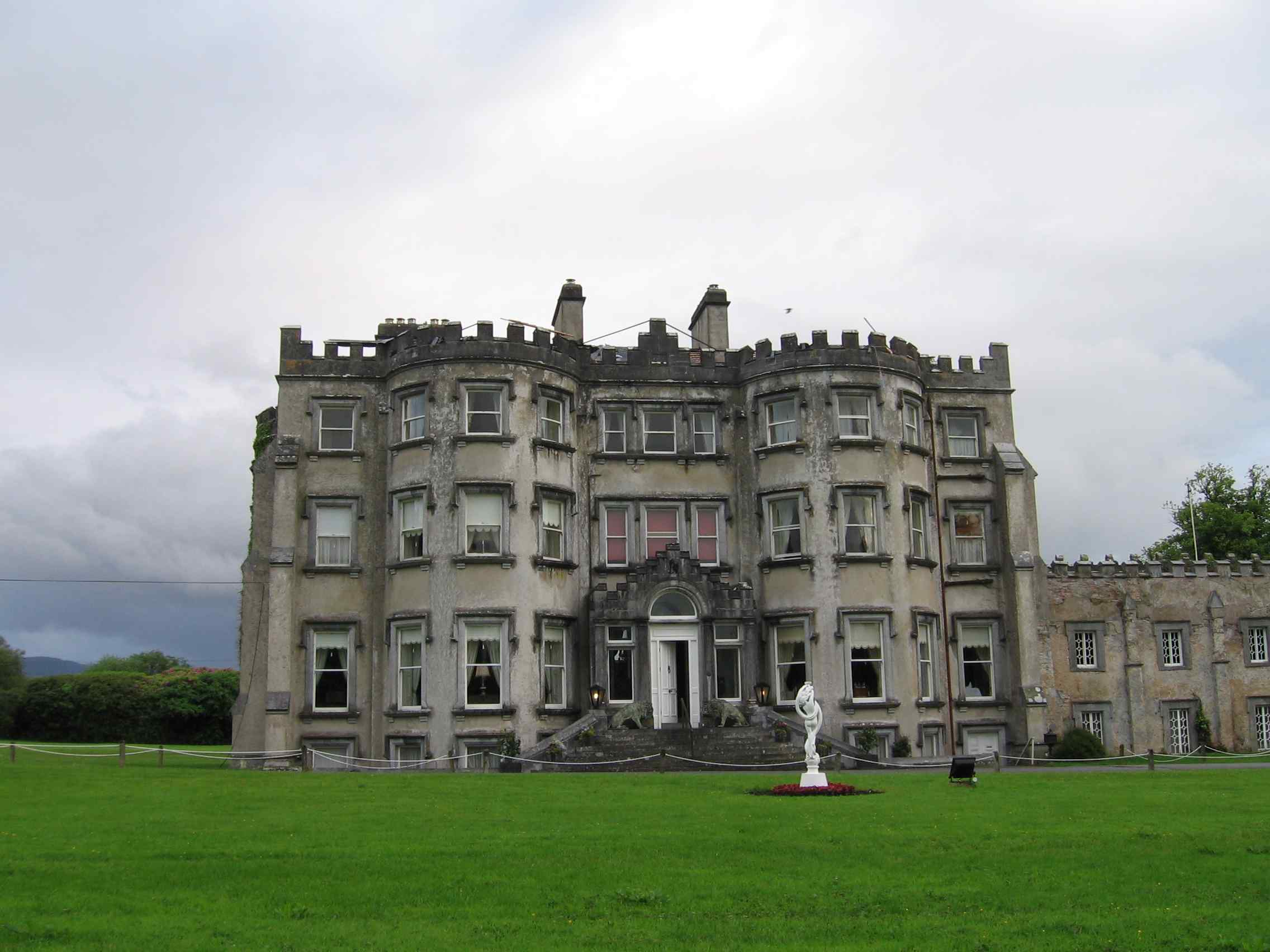 New Ballyseedy (built 1721).
Photo apparently 2005. From
Bill Jehan
.
Elmgrove built on Ballyseedy estate, 1721
New Ballyseedy is at the E end of the
Ballyseedy
estate.
The new Ballyseedy House was originally built as Elm Grove (or Elmgrove) in 1721.
There is a plaque dated 1721 in the banquet hall.
It was not the residence of Col. John Blennerhassett, who remained living at the old Ballyseedy Castle.
Rather, it was the residence of his brother William Blennerhassett, senior.
Though if it was built in 1721, it seems William was too young to build it. Possibly Col. John built it for his brother.
William Blennerhassett, senior was living Elm Grove in 1756.
He rebuilt Elm Grove in 1760s [Mc Morran, 1991].
The old Ballyseedy Castle was abandoned some time after 1775 and fell into ruin.
"Elm Grove" appears in the location of New Ballyseedy on 1777 map.
Elm Grove was re-modelled by William Blennerhassett, junior in and around 1788.
From entry of 25 Aug 1788 in [Rev. Daniel A. Beaufort's Tour of Kerry, 1788]: "my companions set out in their Cabriole for Killarney where I was to follow after paying two visits. My first was to Mr Blennerhassett of Elm grove, whom I found now to be the Collector & to live in the town opposite the Inn. When I called he had been gone to Elm Grove some hours. I ordered my chaise & followed but on the road was stopped by Col. Blennerhassett of Arbela & Counsellor Frankland who knew me and as they were going to see me at [?Ardarty] they turned back to the Grove, where the Collector has almost finished an immense house, in a low situation, close to the river Leigh [Lee] tempted by two small offices to prefer this to a noble situation just above it.".
When the three Arthur Blennerhassetts in turn inherit "Ballyseedy" in 1775, 1799 and 1810, it seems they are inheriting the estate rather than the old house, which is becoming a ruin.
It is notable that all three seem to live somewhere other than Ballyseedy, which would suggest that "Elm Grove" (new Ballyseedy) stands, while "Ballyseedy" (old Ballyseedy) is becoming a ruin.
Elmgrove family inherits Ballyseedy estate, 1810
Arthur Blennerhassett
of Elmgrove inherited the Ballyseedy estates (and the ruined Ballyseedy Castle) in 1810.
He died in 1815. SW of Ballyseedy House is
"Monument Wood"
, where there was an obelisk with an inscription to him. This obelisk is now fallen and in ruins.
Elmgrove becomes Ballyseedy House, probably 1821
Arthur Blennerhassett
the younger inherited the Elmgrove house and the Ballyseedy estate in 1815.
He remodelled Elmgrove (Ballyseedy House) in 1816-1821. The remodelling is believed to be the work of
Sir Richard Morrison
. The lower, medieval castle-like, N wing was added, with round and square turrets.
Sometime after 1819, he re-named Elmgrove as
"Ballyseedy House"
[Mc Morran, 1991]
.
Bill Jehan
says:
"Use of the name "Elmgrove" stops suddenly, not only as the name of a Blennerhassett home but for any purpose at all ... The most recent date at which I have found the name "Elmgrove" in use is 1819, and I suspect the decision to rename Elmgrove as Ballyseedy may have been made by Arthur Blennerhassett in 1821, on completion of the house extension and remodelling"
.
Arthur finished his re-modelling in 1821. There is a
plaque dated 1821
at the N end.
Ballyseedy House becomes Ballyseedy Castle, 1880
Ballyseedy House was remodelled again in 1880 by
Major Arthur Blennerhassett
.
The main S block was remodelled in medieval-revival style by
James Franklin Fuller
, adding
battlements
and
hood mouldings
and the curved medieval tower look to this block. The entrance was moved from the W side to the E side. The N wing was not changed.
After 1880 it was known as
Ballyseedy Castle
.
The Ballyseedy line of the Blennerhassetts died out 1965.
The house was left to Sir Adrian Blennerhassett, 7th Baronet who sold it in 1967 to Arthur and Eileen Sheraton.

Ballyseedy Castle becomes Ballyseede Castle, after 1967
Ballyseedy was restored and opened as
Ballyseede Castle Hotel
. This was a deliberate change of spelling, presumably because they didn't like "seedy" in the name. (Though it was unnecessary to invent a name when they could have chosen "Ballysheedy" or "Ballyshiddy".)
It is now
Ballyseede Castle Hotel
.
---
---
---
---


Ballyseedy on
p.163
of
[Smith, 1756]
.
This shows
John Blennerhassett
at
Old Ballyseedy
and his younger brother
William Blennerhassett
at Elmgrove.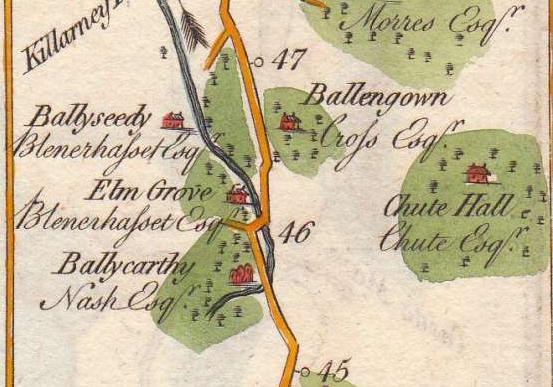 Ballyseedy and Elmgrove and Ballycarty on 1777 map.
Up is W.
[Houses of Kerry] considered Elmgrove as a separate building to New Ballyseedy.
But it seems clear from this map that Elmgrove is New Ballyseedy.
The map shows "Elm Grove" in the location of the new Ballyseedy House, and shows the old Ballyseedy Castle a mile to the W.
[Mc Morran, 1991] also supports this.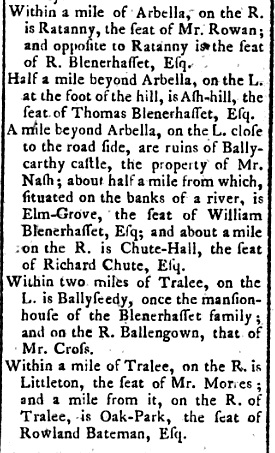 [The Post-chaise Companion, 1786, p.186] shows William Blennerhassett at Elmgrove.
To the W it shows the abandoned Old Ballyseedy.



Arthur Blennerhassett (died 1815) listed at Elmgrove (house) and Ballyseedy (land) in [Leet's Directory, 1814].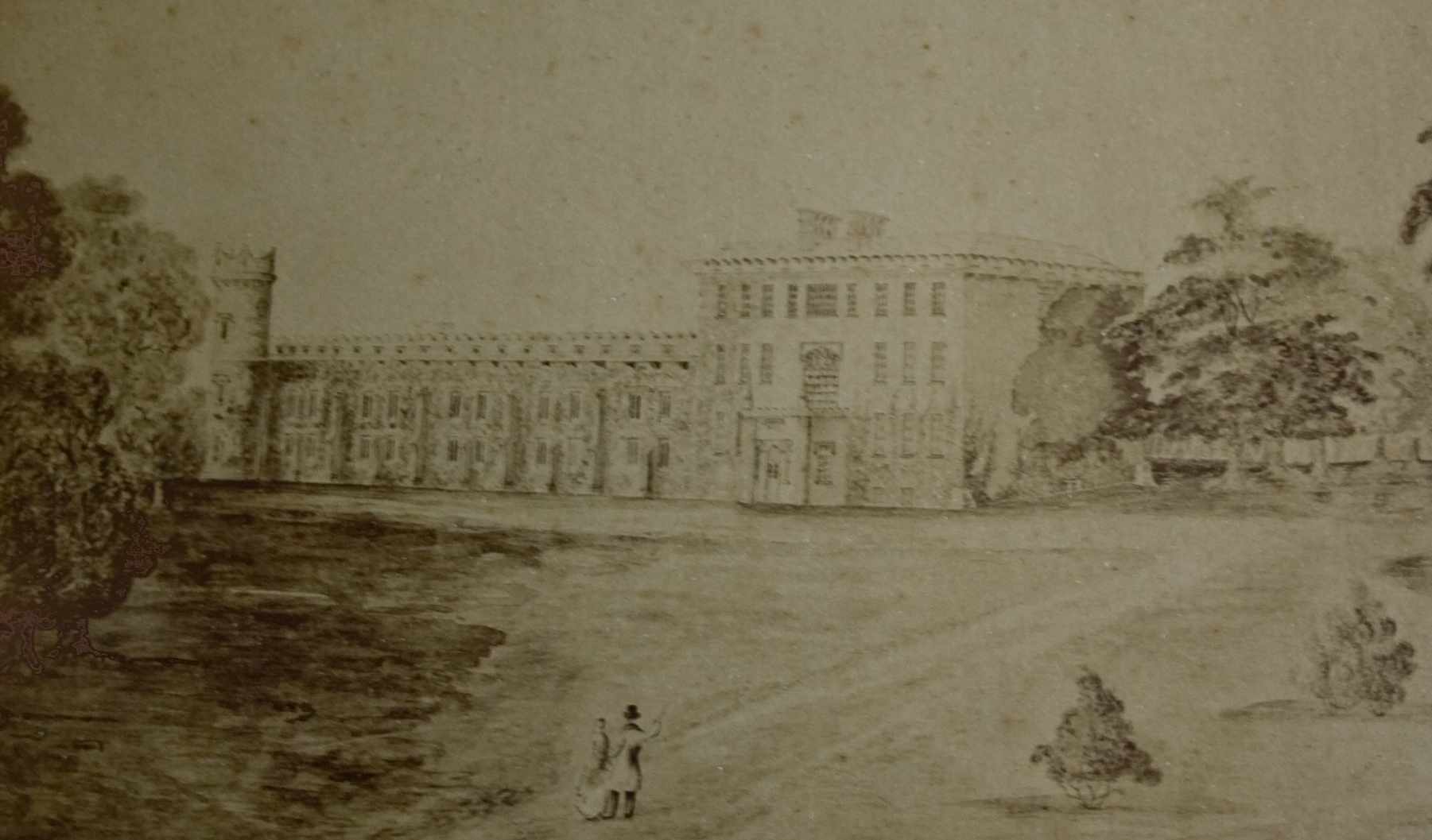 Ballyseedy when it was the seat of Arthur Blennerhassett, after his alterations.
From the W side.
A note on the back says c.1830.
But the front lists him as MP for Co.Kerry. If front writing is done at same time as picture, then picture must be 1837-43.
Drawing at Glin Castle.
Note the old front door was on the W side. The front door was later moved to the E side.
The low N extension is similar to present day.
But the main S block is different.
See larger and wider and full size.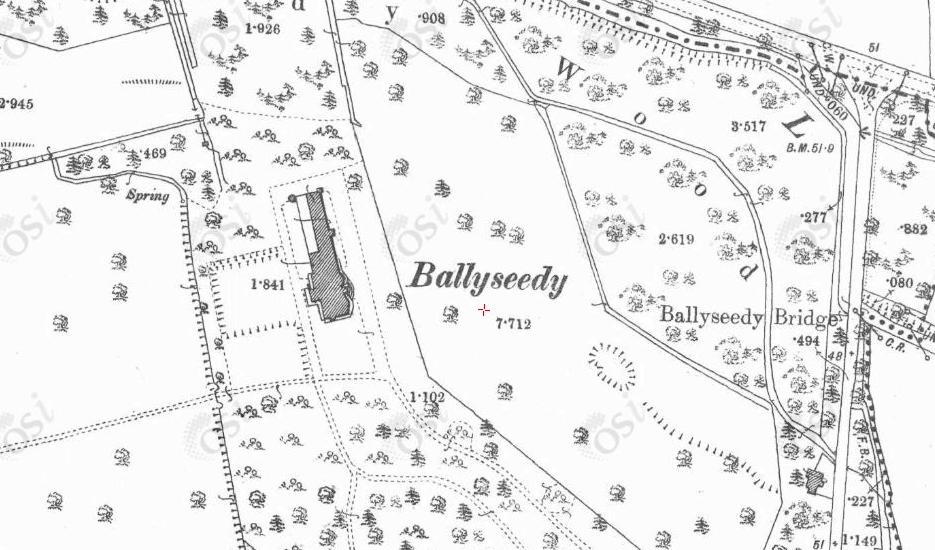 New Ballyseedy on 1887 to 1913 map.
The main block is to the S. The lower extension leads away to the N.
See other copy.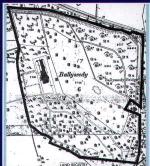 The Ballyseedy estate, for sale in the 1990s.
Image formerly here.
Compare with the estate as at apparently 1919.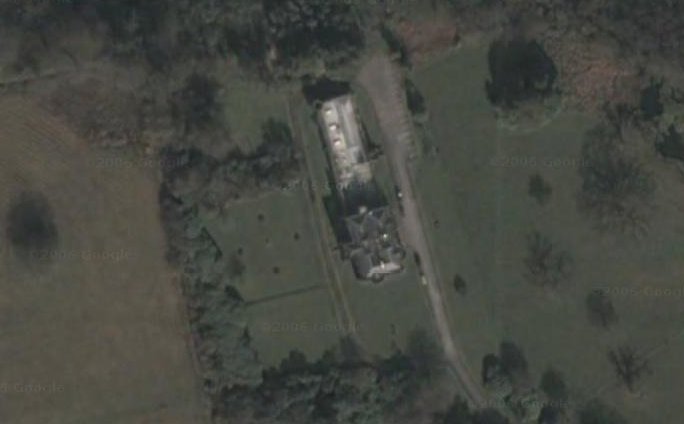 Ballyseedy House.
From satellite view.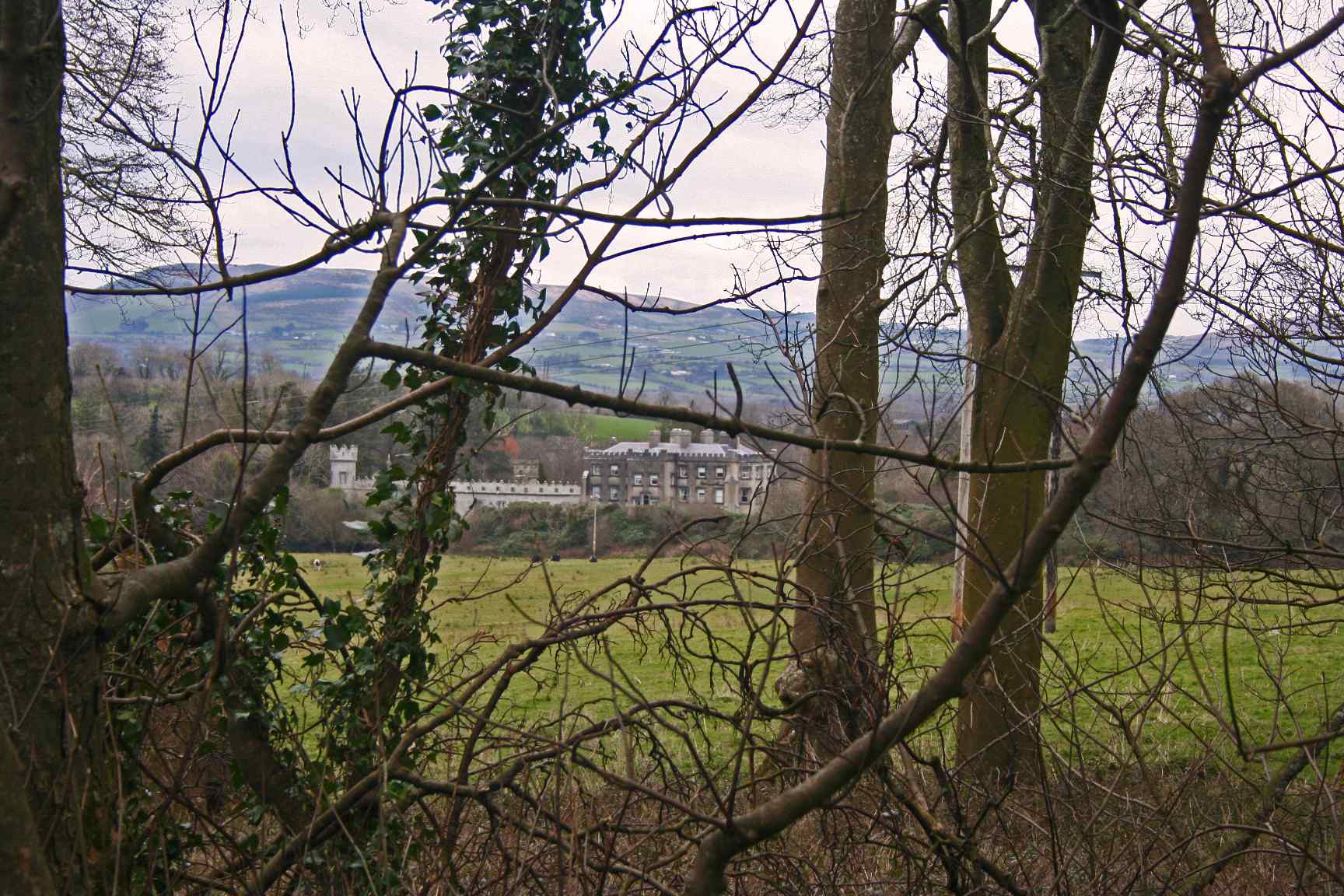 Ballyseedy. View from Monument Wood to the SW.
See larger and full size.
Photo apparently 2008. From Bill Jehan.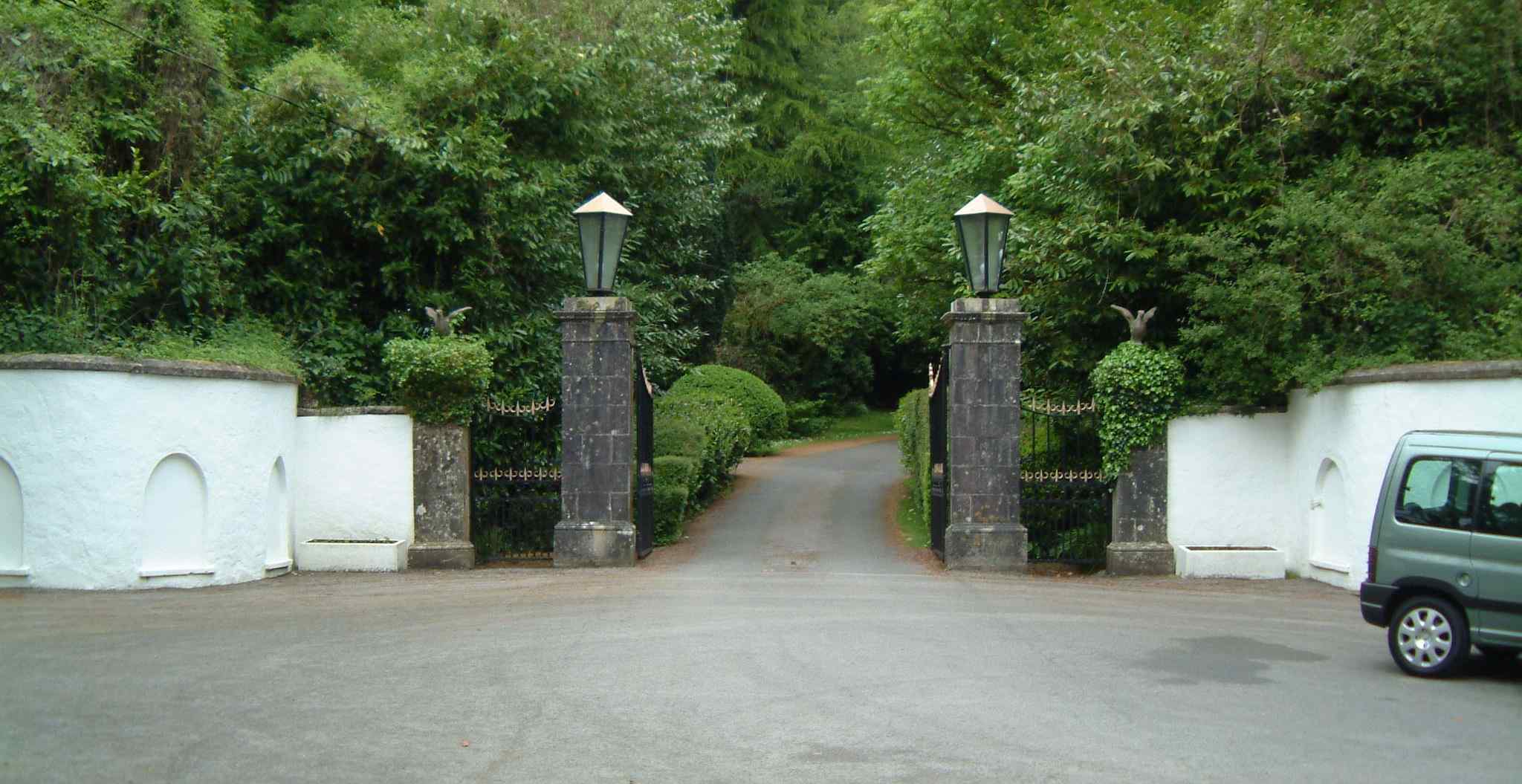 Gates of Ballyseedy.
See larger and full size.
Photo 2004. From Bill Jehan.
See street view.
---
There is an old fireplace in the banquet hall at New Ballyseedy.
The hotel says this is an old fireplace moved from Old Ballyseedy to the new building.
Bill Jehan
is inclined to that view.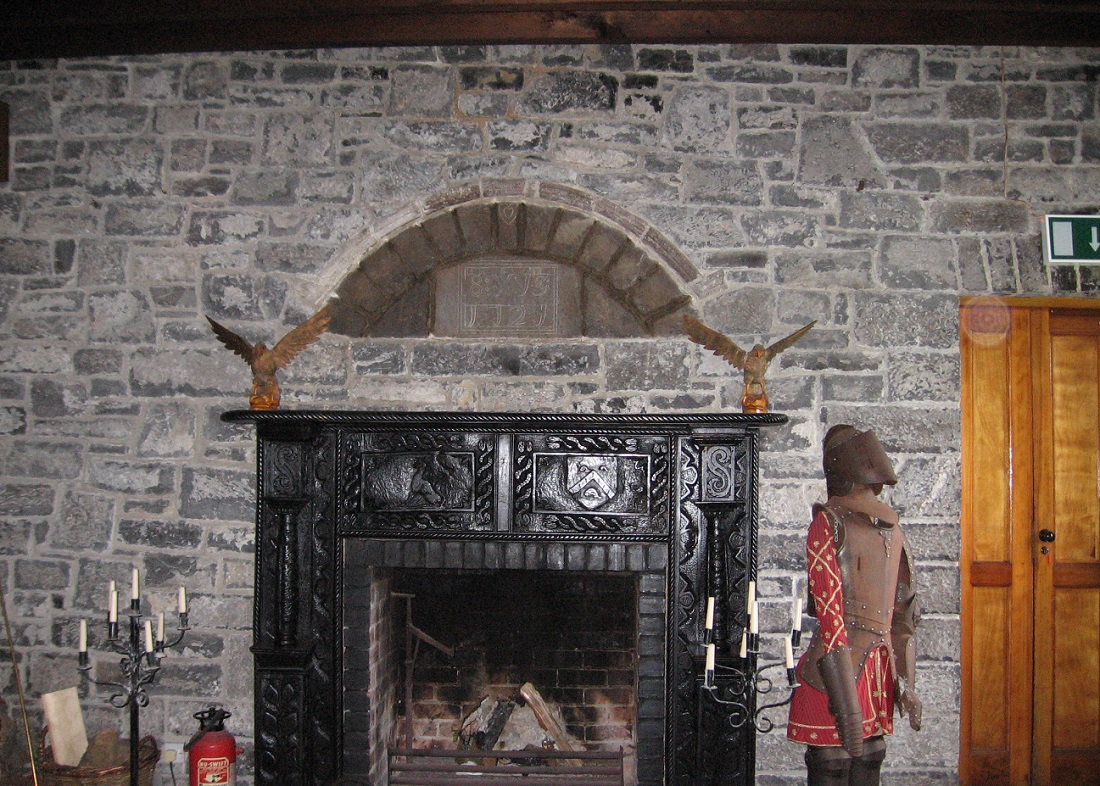 The fireplace in the banquet hall at New Ballyseedy.
Photo apparently 2005. From
Bill Jehan
. See
full size
.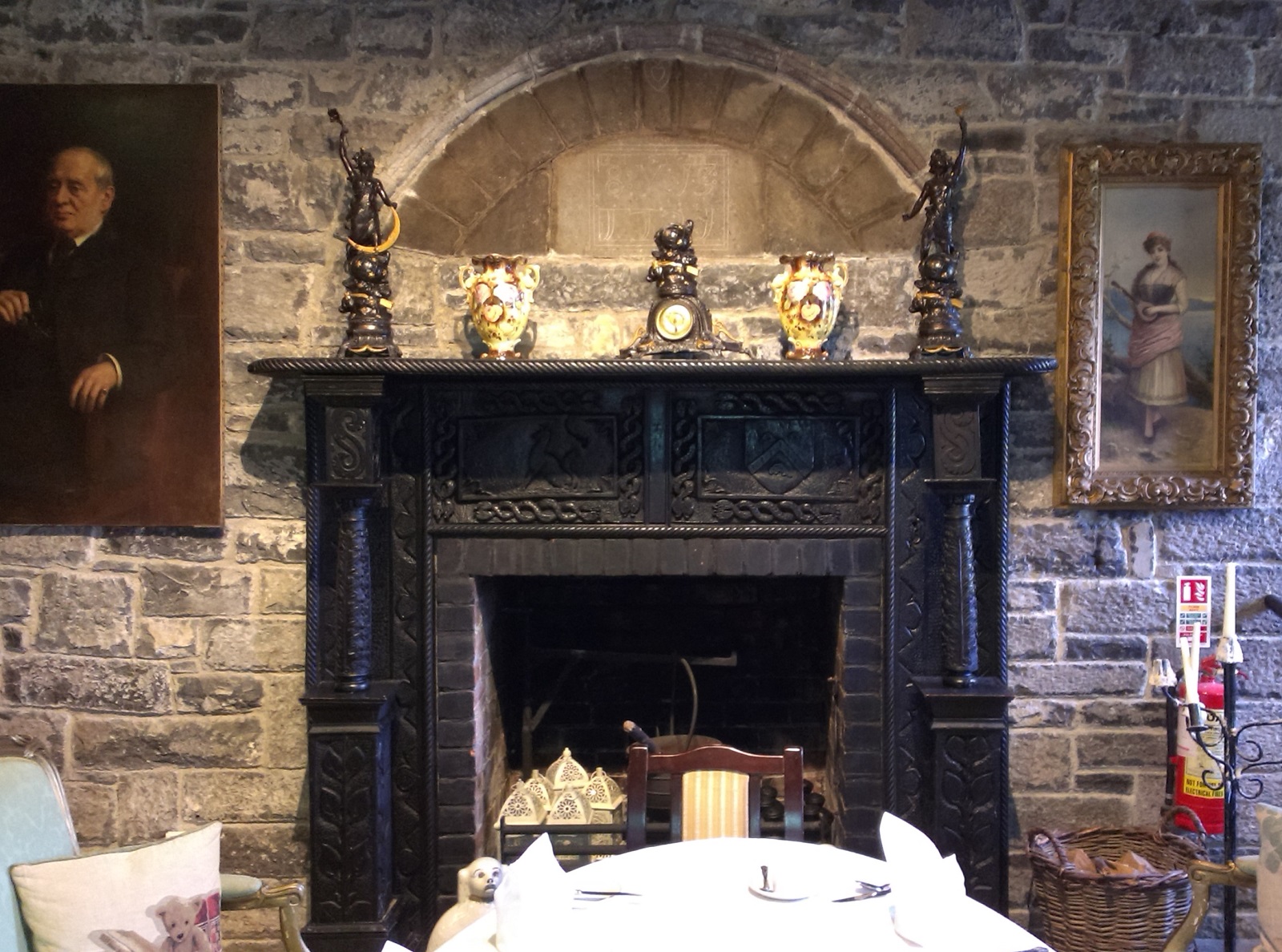 The old fireplace.
Photo 2016. See larger and full size.
See wide shot.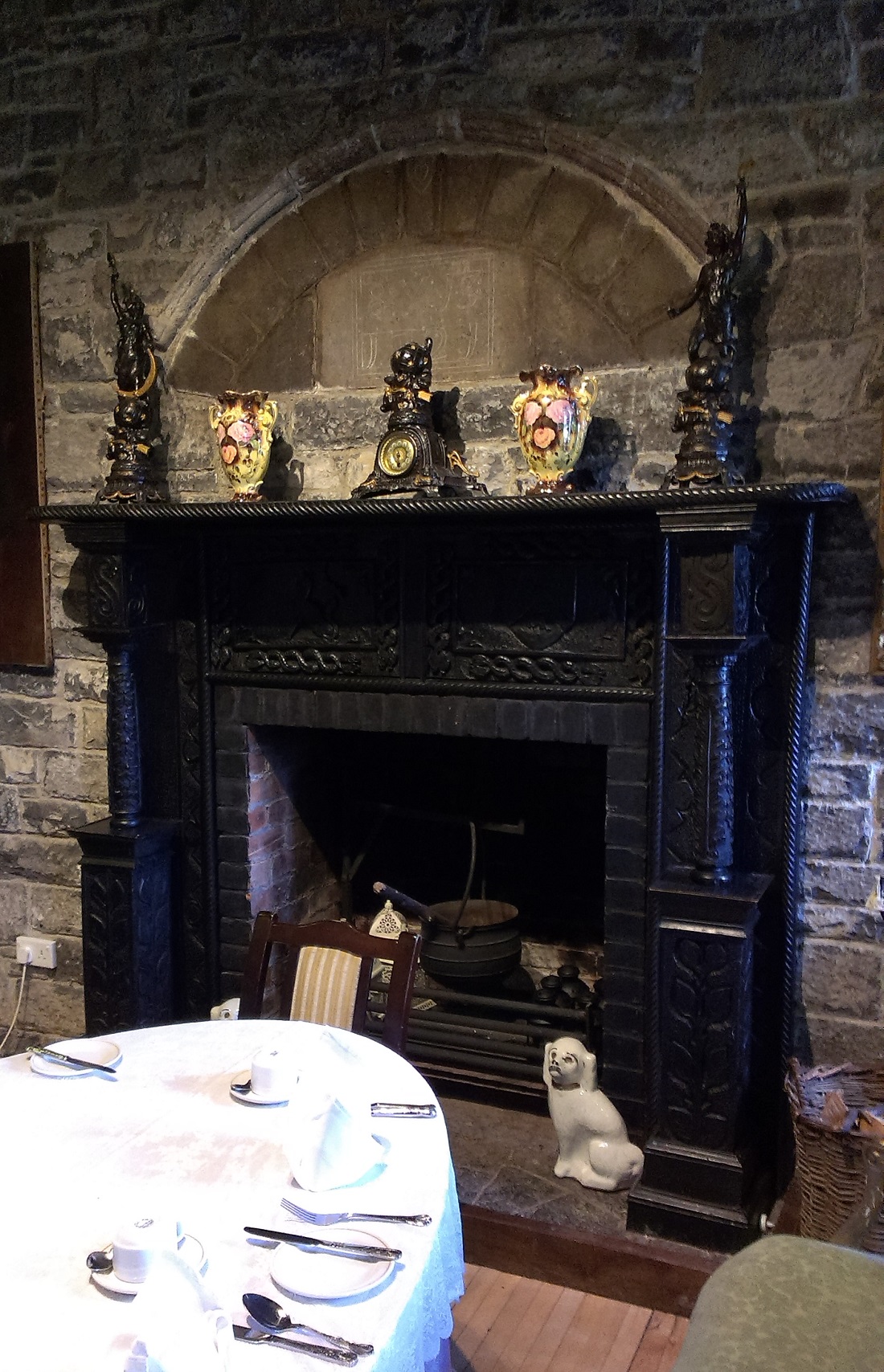 The old fireplace.
Photo 2016. See larger and full size.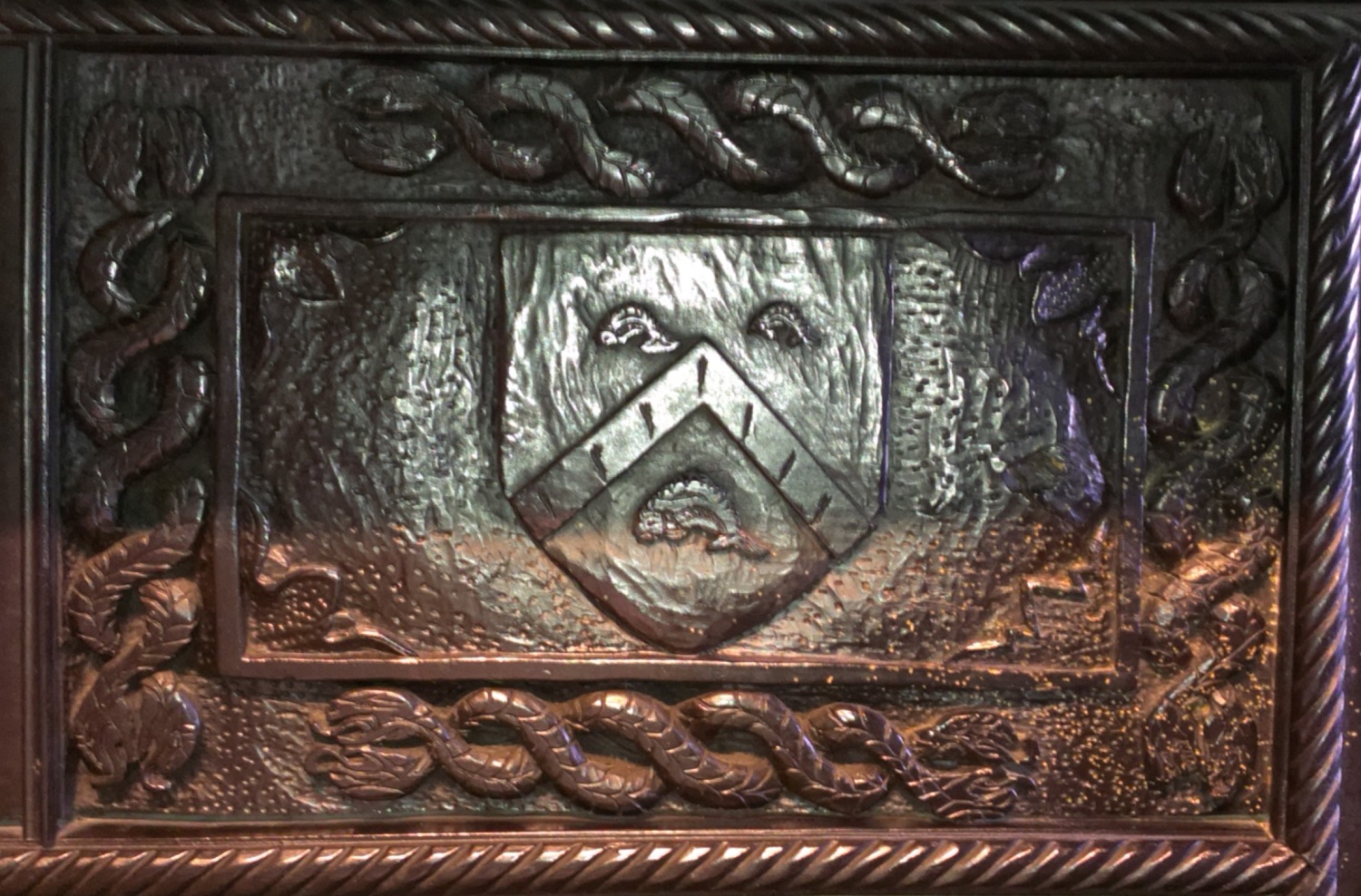 Close-up of RHS panel, showing Blennerhassett arms.
Photo 2016. See larger and full size.
See also LHS panel.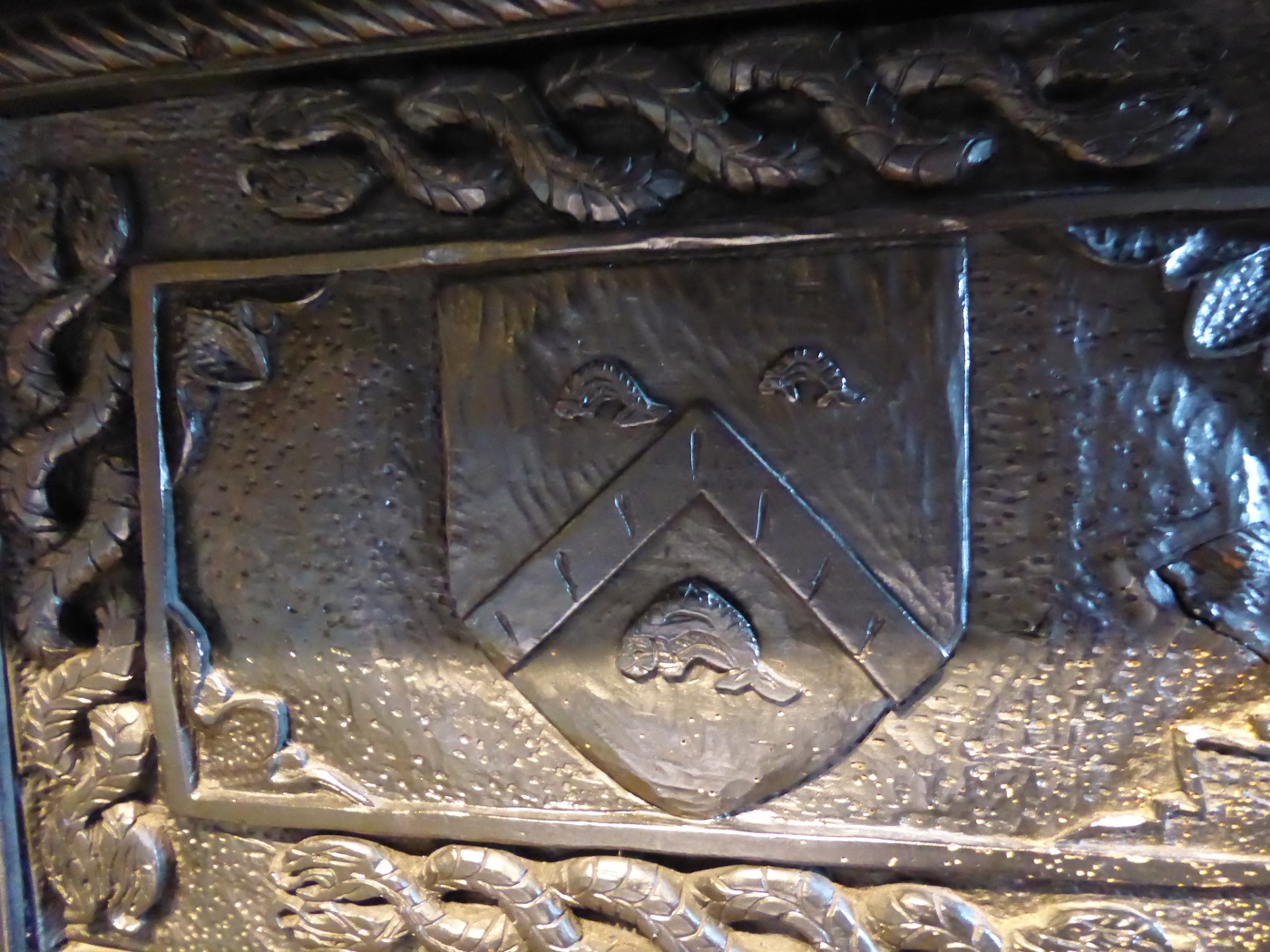 Close-up of RHS panel.
Photo 2016. See larger and full size.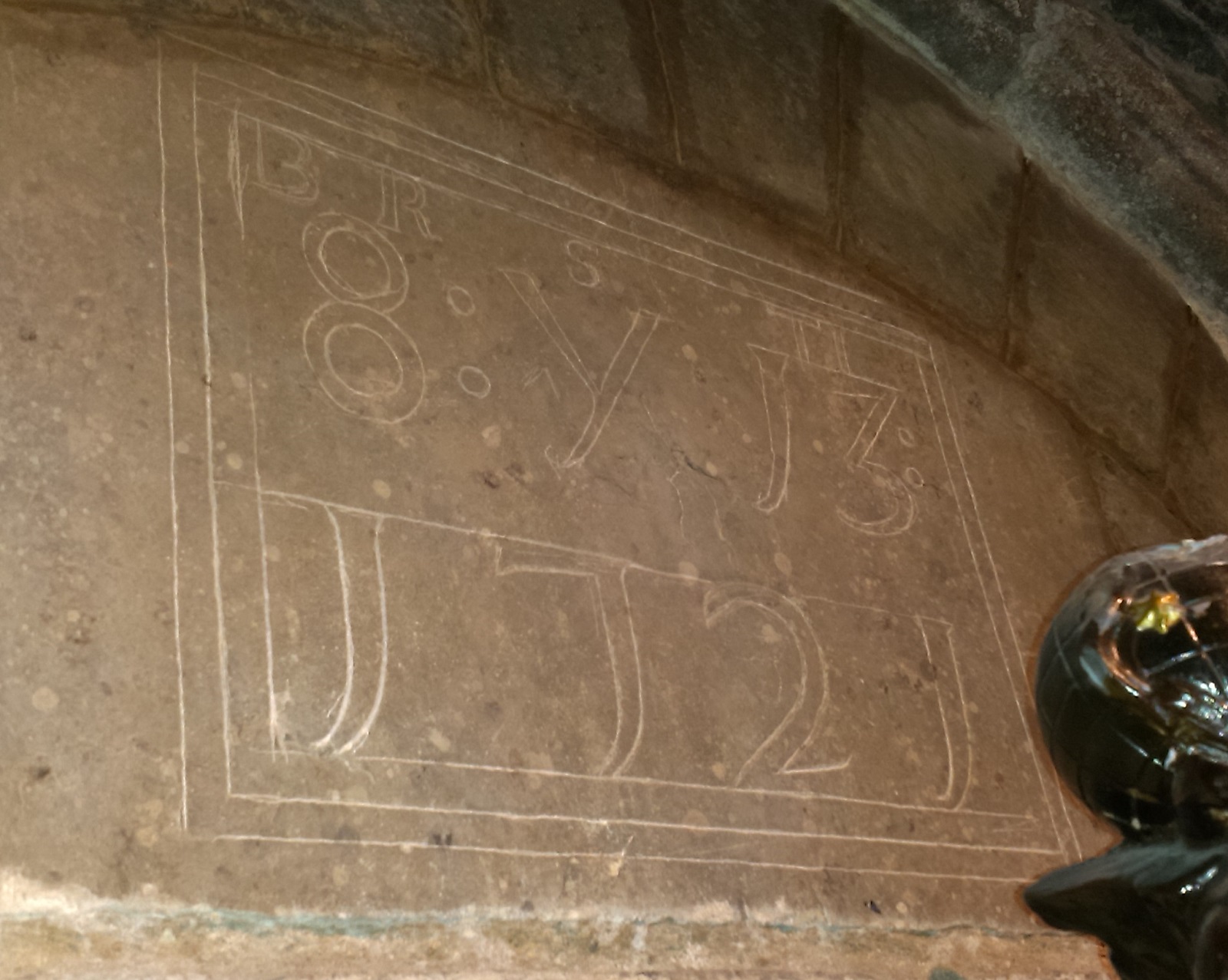 Stone plaque above the fireplace, with the date "1721".
This is the date of the new building.
Photo 2016. See larger and full size.
See 2000 photo.
The plaque reads:
---

Return to Ballyseedy.