Henry Herbert, 10th Earl of Pembroke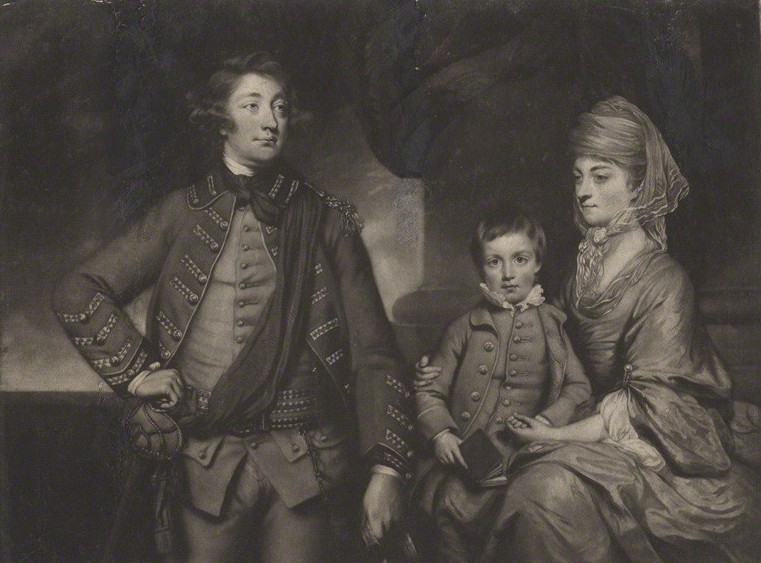 The 10th Earl, his wife Elizabeth Spencer, and their son the 11th Earl (born 1759) as a boy.
Engraving by James Watson, after painting by
Sir Joshua Reynolds
, published 1773.
See
full size
. From
NPG
. See
terms of use
.
Henry Herbert, 10th Earl of Pembroke
and 7th Earl of Montgomery,
born July 1734, Pembroke House, London.
Descendant of
Edward III
.
See
Wikipedia
and
Wikitree
and
thepeerage
and
genealogics
.
He was educ
Eton
. Supposed to be there 1748-1750. Though he
appears
in list of 1747-48.
[PP, vol.1, p.22]
thinks he was at Eton by 1746, left 1750.
He succ as Earl age 15 in Jan 1750 when his
father
died.
His seat was the great mansion of
Wilton House
, Wiltshire.
Like all the Earls since the 3rd Earl, he became
Visitor of Jesus College, Oxford
when he became Earl.
His mother
remarried in Sept 1751
.
Henry went on an extensive
Grand Tour
1751-1755.
In 1752-53 (age 18) he was appointed a
Cornet
in the
1st Dragoon Guards
.
He spent nearly a year in
Florence
, from Dec 1753 to Oct 1754.
He became a
Captain
in the
1st Dragoon Guards
.
He became an authority on breaking cavalry horses.
Returned to England in Dec 1755, now age 21.
He built indoor
Riding School
at Wilton House in 1755 (now visitors centre).
He commissioned 55 paintings of military riding exercises 1755. These now hang in Large Smoking Room, Wilton. They were published in
The Wilton House Riding School
, Dorian Williams.
A stillborn baby,
born 9 June 1758, Pembroke House.




George Augustus Herbert, 11th Earl of Pembroke.
He was born 10 Sept 1759 (NOT 20 Sept), either Wilton House or Whitehall, London (must be Pembroke House).
He was bapt 29 Oct 1759, St Martin in the Fields, London. See entry from here.
[PP, vol.1, p.30] seems wrong to say bapt at Wilton.
"George" was not a Herbert name before this.
He was possibly named after the Spencer side. His uncle George Spencer, 4th Duke of Marlborough, had just succeeded as Duke in 1758.




Charlotte Herbert,
born 14th July 1773,
died from consumption, 21st Apr 1784, age 10 yrs.

Henry was appointed Lord Lieutenant of Wiltshire 3 April 1756. Held that post until 22 March 1780.
On 27 Sept 1756 he became a Major in the 1st Foot Guards.
He was made a Lord of the Bedchamber to George, Prince of Wales (later George III) in Nov 1756.
In 1756-59 he re-built the family's town house, Pembroke House, London.
He lived in the family's old London house, 12 St James's Square, London, until Pembroke House was finished in 1759.
In 1759 he became Lieutenant Colonel in the new 15th Light Dragoons.
He was despatched c. early 1760 with his regiment to Germany to take part in the Seven Years' War (spanned 1756-63, Prussia was Britain's ally).
He served under John Manners, Marquess of Granby (as did Dr. William Kerr).
He was present at the Battle of Warburg, central Germany, 31 July 1760.
Lord of the Bedchamber to George III 1760-1763.
He became a Major-General 10 Mar 1761. He commanded the Cavalry Brigade in Germany 1761-63.
He wrote the British Army's manual on riding, Military Equitation: or A Method of Breaking Horses, and Teaching Soldiers to Ride (1761). His methods were adopted throughout the British cavalry. (His book had gone into 4th edn by 1793.)
Augustus Reebkomp (later Montgomery),
illegitimate child, born 23 Nov 1762.
[PP, vol.1, p.33] thought he was born in England, and [Thomas, 2008] thought he was born in Whitehall (Pembroke House).
But apparently not, since he was baptised in Holland (where the lovers had gone to escape the scandal). Must be born in Holland.
He was bapt 16 Dec 1762, at the village of Loenen, province of Utrecht, Holland. Listed as child of Henry Herbert, Earl of Pembroke, and Catherine Hunter.
Baptism is recorded in records of St. Mary's Church, Rotterdam, Holland. Though Loenen is a long way from Rotterdam. See image from [NA.UK], General Register Office: Foreign Registers and Returns; Class: RG 33; Piece: 89.
His surname is "Herbert" at baptism but they then settled on "Reebkomp" or "Repkombe", anagrams of "Pembroke". He is referred to in letters as "Reeb" or "Rep".
They also gave him a first name "Retnuh", which is "Hunter" backwards.
"Retnuh Augustus Herbert" at baptism.
"Augustus Retnuh Repkombe" in Eton College register.
"Augustus Retnuh Reebkomp" or "Augustus Reebkomp" in Navy records until he changed to "Augustus Montgomery".

Henry returned to England Feb 1763 and was reconciled to his wife Mar 1763.
His wife Elizabeth was admired by the King George III in the early 1760s. This came back to embarrass her when he suffered madness in later life.
The Marquess of Tavistock was also an admirer of Lady Pembroke, and he "studied law for six months to see whether a divorce was possible for a wife 'on the notorious adultery of her husband'" [Thomas, 2008].
In 1768 Henry wrote another book, Instructions for the Education of Cavalry.
Affair in 1768:
Henry had another affair in 1768, and an illegitimate daughter.
[PP, vol.1, p.41]
says there was a story that he had an affair in Venice, and he carried the lady off on the very night of her wedding to someone else.
[Thomas, 2008]
suggests she might be Maria Lavinia Capriano, who is mentioned in Henry's will.
It is unclear if the Venice lady is the mother of the following child Caroline.
A letter in 1780
[PP, vol.1, p.394]
says Caroline's mother is dead. (Though this might only be a cover story for why the Earl is taking care of her.)
Henry had illegitimate issue by unknown woman:
Caroline Medkaff,
or Medkalf, or Medcalf,
born 1768 or 1769, illegitimate.
WSHC says "Mebkoper" is an anagram for Pembroke, and "Medkalf" is an "Anglicisation" of that.
As with his other illegitimate child, the 10th Earl acknowledged her and paid for her.
She was educ in France and England.
She mar 1786, London, to John Williams [himself an illegitimate child of gentry] and had issue.
She is listed at marriage as of parish of St Martin-in-the-Fields, London.

Henry was again a Lord of the Bedchamber to George III in 1770-1780.
He became a Lieutenant-General 1770.
The King and Queen stayed with them at Wilton for two nights in 1778. See Royal visit to Wilton, 1778.
"Husbands are dreadfull and powerfull Animals" wrote the long-suffering Elizabeth after taking her husband back. But she was not completely helpless. She prevented him from giving Reebkomp the surname "Herbert". (Reebkomp had to make do with adopting the name "Montgomery" in 1781.)
She and Henry ended up in separate quarters at Wilton (him downstairs, her upstairs).
Henry advanced to the rank of General in 1782.
He was Lord Lieutenant of Wiltshire again from 8 April 1782 to death 1794.
Governor of Portsmouth 1782-1794.
Elizabeth was Lady of the Bedchamber to Queen Charlotte in 1783-1818.
Elizabeth leaves Henry:
Eventually Elizabeth left him in 1788.
She moved to Pembroke Lodge, Richmond Park, London. This was a house granted to her by the King in 1787. She moved there in 1788 and extended it.
The King's madness:
But then the King, who had been attracted to Elizabeth all his life, suffered his first bout of insanity in 1788, and she had to endure (at age 51) the embarrassment of his unwanted attentions.
See will of 10th Earl dated 26 May 1788. He leaves Wilton House and Pembroke House to his son George. At the start of the will he says he leaves £1000 to his wife and then immediately says he leaves £100 to his ex-lover Kitty Hunter. He then makes provision for his son by her, Augustus Montgomery. He then makes provision for a list of children, who may be further natural children of his.
Henry dies, 1794:
The last codicil to his will was written 21 Sept 1793.
In a letter of 26 Dec 1793 it is reported that he has had what seems like a stroke and is part paralysed.
He died at Wilton, 26 Jan 1794, age 59 yrs.
He was bur 3 Feb 1794 at Wilton parish church.
His will proved 21 March 1794, Prerogative Court of Canterbury.
Elizabeth continued to live at Pembroke Lodge in London, leaving Wilton House to her son the 11th Earl.
Augustus Reebkomp died 1797.
Elizabeth suffered the unwanted attentions of the King sporadically until 1805 (her age 68).
She outlived her son the 11th Earl who died 26 Oct 1827. She outlived both her son and her husband's natural son.
Her will dated 17 Nov 1827.
Elizabeth dies, 1831:
She is listed as of Richmond Park at death.
She died at Pembroke Lodge, 30 Apr 1831, age 93 yrs.
Her will proved 26 May 1831, Prerogative Court of Canterbury.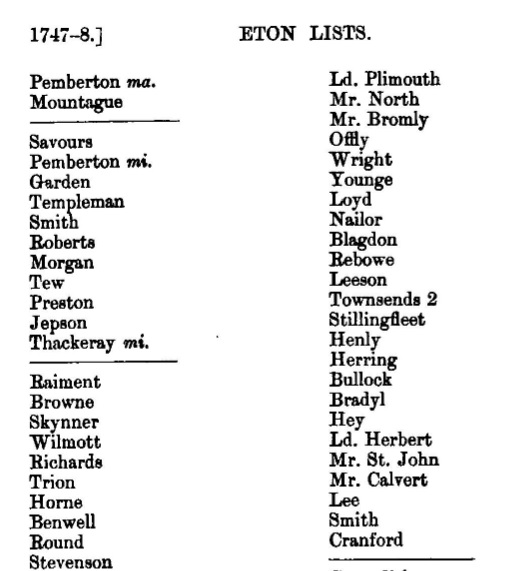 "Lord Herbert" at Eton in list of 1747-48.
From
p.43
of
Eton College Lists, 1678-1790
.


Listing of the Earls in [Watson's Almanack, Dublin, 1761].
Shows the 10th Earl of Pembroke with his London town house at "Privy-Garden".
See full size.
See another copy.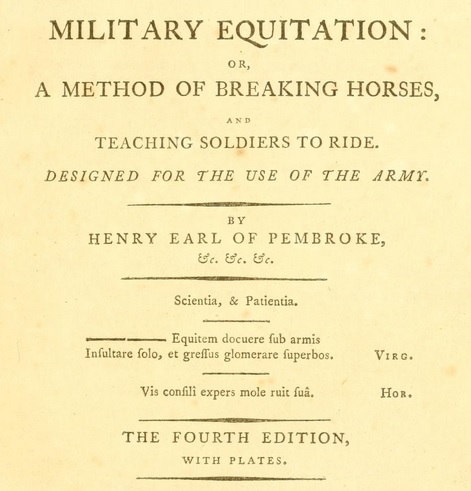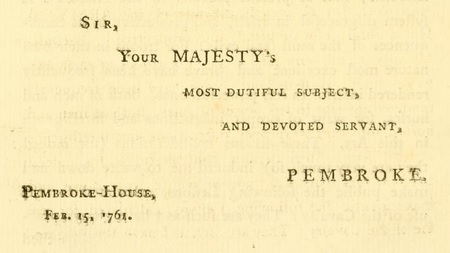 Title page of the 4th edn (1793) of the 10th Earl's book Military Equitation.
The 1st edn was dated from Pembroke House 15 Feb 1761.



Letter of 26 Dec 1793 from Susanna, Marchioness of Stafford to her son Granville Leveson-Gower (later 1st Earl Granville).
This reports that the 10th Earl of Pembroke has had what seems like a stroke and is part paralysed.
Lady Stafford hopes that he will now repent of his "great Sins" before his death.
From pp.72-73 of vol.1 of Lord Granville Leveson Gower: private correspondence, pub 1916.
---
The ship, the Earl of Pembroke
The Earl of Pembroke (1764)

Captain Cook's famous ship, the Endeavour, was formerly the Earl of Pembroke.
It was a merchant ship built in 1764, and named after the 10th Earl of Pembroke.
It was purchased for Cook in 1768, refitted and renamed the Endeavour.
It was scuttled in 1778.
A replica was built, finished in 1994.

The Earl of Pembroke (1994)

There is a modern replica 18th century ship called the Earl of Pembroke.
This was built in 1945 as the Orion.
It was reconstructed as an 18th century style ship in 1994.
This has been used in many films, and was re-named the Earl of Pembroke in the time of the 17th Earl the film-maker.
However, the inspiration for the name was apparently the fact that Captain Cook's Endeavour used to be the Earl of Pembroke.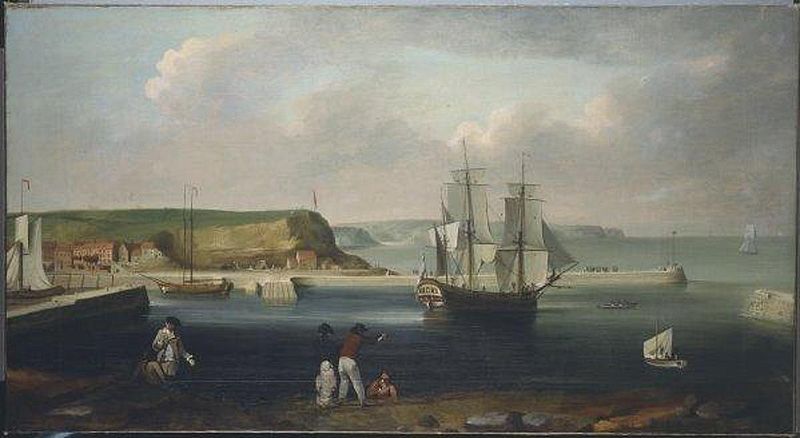 The
Earl of Pembroke
, later HMS
Endeavour
, leaving
Whitby Harbour
, North Yorkshire, in 1768.
See
full size
. From
here
.
---
The Madness of King George
Lady Pembroke (Elizabeth Spencer, wife of the 10th Earl) features in the movie The Madness of King George (1994).
The movie shows the mad King harassing her, but shows her (and the Queen) remaining loyal to him.

The ages are not accurate:

Set in 1788, Lady Pembroke was actually much older than portrayed. She was age 51 in real life but is played by 32 year old Amanda Donohoe.
In 1788, the King was age 50, the Queen was age 44, and Lady Pembroke was age 51.
However in the movie, the actor playing the King is age 65, the actress playing the Queen is age 49, and the actress playing Lady Pembroke is age 32.

In the movie, Lady Pembroke says "My mother-in-law lost her wits" [but is now cured]. This is invention. Her mother-in-law Mary Fitzwilliam died in 1769.
It is obviously more accurate than, say, the ludicrous Bridgerton series, but it is still not that accurate.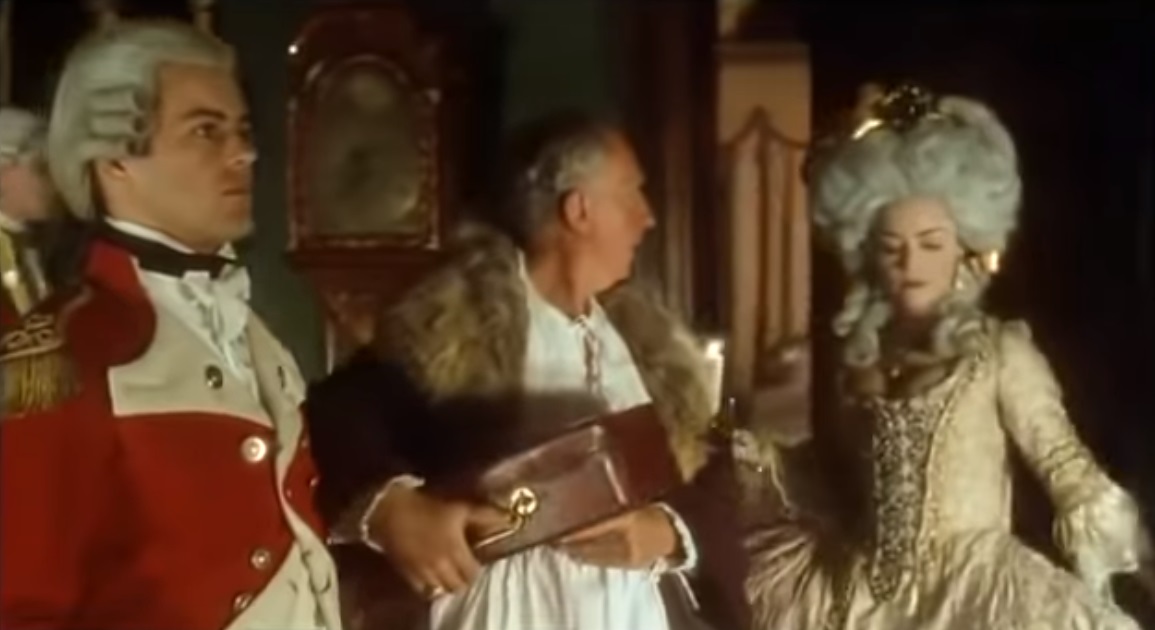 The King introduces her:
"Now, that's Lady Pembroke. Handsome woman, what? Daughter of the Duke of Marlborough. Stuff of generals. Blood of Blenheim. Husband an utter rascal. Eloped in a packet-boat."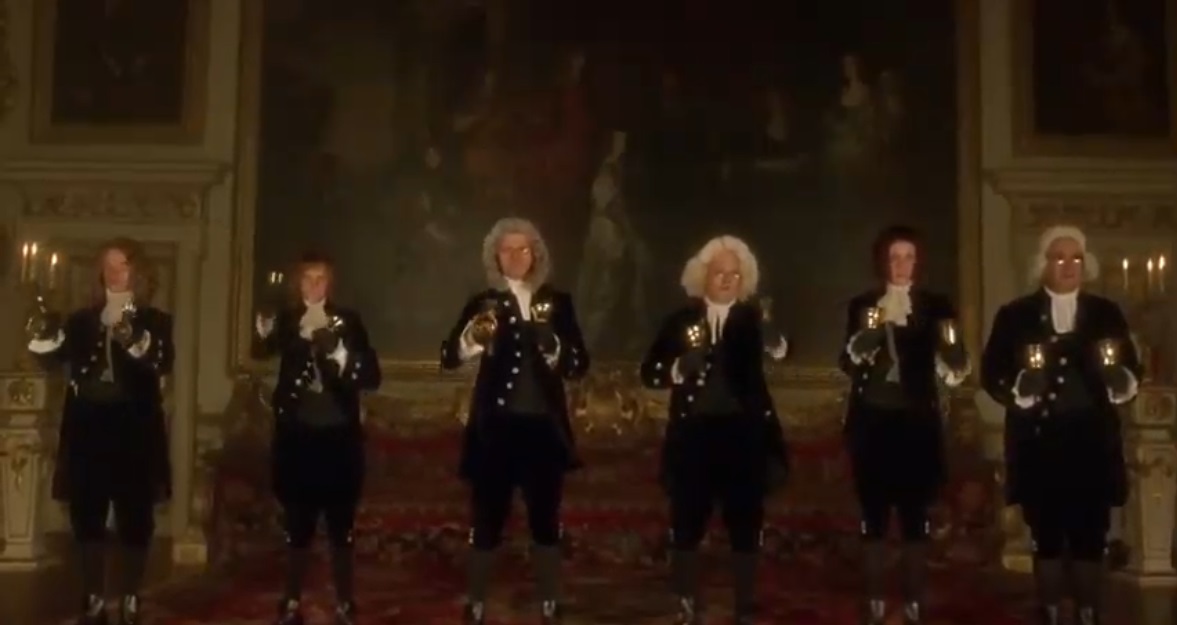 The concert with the bell-ringers, and two later scenes with the Prince of Wales, are actually shot in the Double Cube Room at Wilton (with group portrait visible). Though it is not meant to be Wilton in the story.
---
The Complete Peerage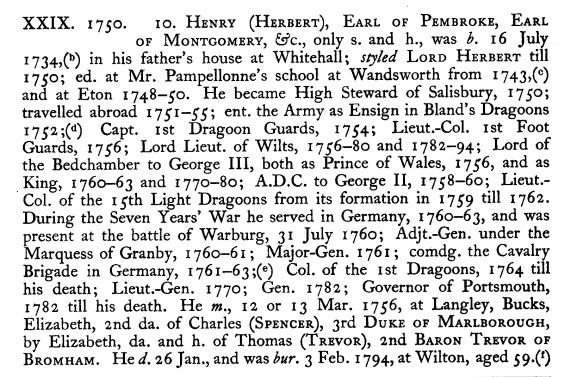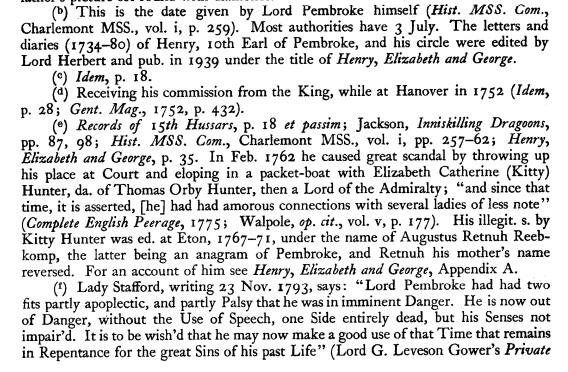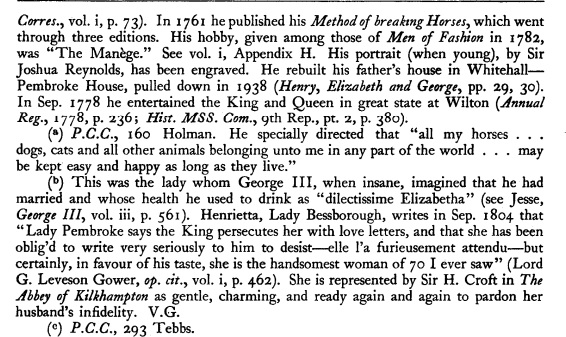 10th Earl in [Complete Peerage].
---
Baptisms

Baptism of 11th Earl in London, 29 Oct 1759.


Reebkomp's baptism in Holland, 16 Dec 1762.
See full size.
---
Possible other natural children

This may be another natural child of the 10th Earl:
The baptism of
Charles Henry Herbert
, son of "Henry and Jane Berkepom", born 11 Jan 1767, bapt 7 Feb 1767,
St Marylebone
Church of England.
"Berkepom" is an anagram for "Pembroke".
See
full size
.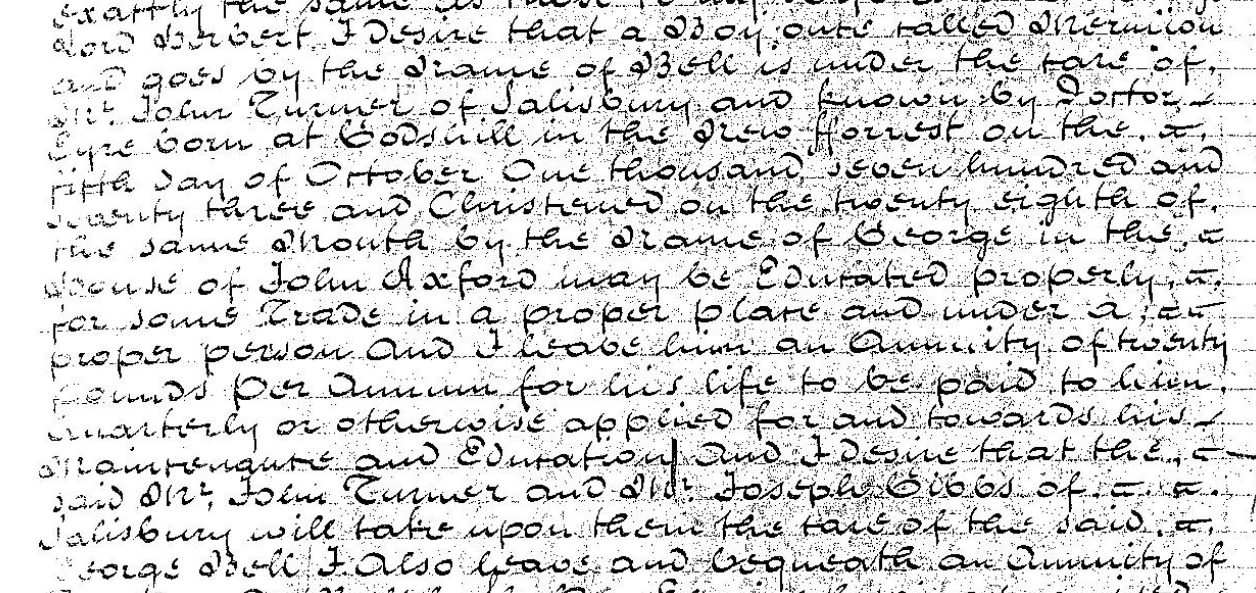 Will of 10th Earl sets up provision for a number of children.
Starting with this boy, apparently called George Bell, who was born 5 Oct 1773 and baptised 28 Oct 1773.
There are more children listed below him, including one in Naples.
Can they all be the 10th Earl's natural children?
---
---
---
References
---
Sources yet to be consulted
---
The Pembroke Papers (family papers of 1734-1794). Edited by the 16th Earl.

Volume 1:

Henry, Elizabeth and George: Letters and Diaries of Henry, 10th Earl of Pembroke and his Circle (1734-1780), 1939.
"Augustus Reebkomp" in Appendix A (pp. 497-498).
Republished as: The Pembroke Papers vol. I (1734-1780), 1942.

Volume 2:

The Pembroke Papers vol. II (1780-1794), 1950.
---