Christopher Nugent, 5th Baron Delvin
Christopher Nugent, 5th Baron Delvin
(see
here
), born 1544.
He succ 1559 when his father died.
As a minor he was the ward of
Thomas Radcliffe, 3rd Earl of Sussex
(Lord Lieutenant of Ireland 1560-66).
Goes to Cambridge. Thought to have written Irish primer for Queen.
He was educ Clare Hall (later Clare College), Cambridge, matric 12 May 1563.
He is thought to be the author of a short 16th century primer on the Irish language. It was prepared for Elizabeth I at her request. It was possibly presented to Elizabeth I on the occasion of her visit to the University of Cambridge in 1564.
He was knighted at Drogheda by the Lord Deputy Sir Henry Sidney 1565.
He came under suspicion in July 1574 when he refused to sign the proclamation against the rebel Earl of Desmond. Explanations were demanded and it took until 1575 before he recovered the good opinion of government.
He mar 6 May 1575 to Mary Fitzgerald [born 13 Sept 1556, descendant of Edward III].
In April 1576 he entertained Sir Henry Sidney.
Multiple times a prisoner in Dublin Castle:
In 1576, Delvin led a dispute with the Crown about taxation. The complaints were not well received and in May 1577 he and others were confined in Dublin Castle. Later released.
He fell under suspicion again. In Dec 1580 he and his father-in-law the 11th Earl of Kildare were imprisoned in Dublin Castle on suspicion of being implicated in the rebellion of 3rd Viscount Baltinglass. Delvin was accused of "obstinate affection to Popery".
This time he was held for a long period. He and and his father-in-law were sent, still prisoners, to London in 1582. Held in the Tower of London while a treason case was considered.
No real evidence could be found. He was released after 1582, back in Ireland by 1585.
In 1593 he was appointed leader of the forces of Westmeath at the general hosting at Tara.
During the Earl of Tyrone's rebellion, he submitted to Tyrone in 1600. As a result he was shortly afterwards arrested on suspicion of treason and confined in Dublin Castle.
He died a prisoner in Dublin Castle, Aug to Oct 1602 (various dates given), age 58 yrs,
bur 5 Oct 1602 in Delvin church, Co.Westmeath.
Mary died 1 Oct 1610, age 54 yrs,
bur at Delvin church.
5th Baron and Mary had issue:
Mabel Nugent, born post-1575,
mar Murrough O'Brien, 4th Baron of Inchiquin and had issue.




Richard Nugent, 1st Earl of Westmeath, born 1583,
cr Earl 1621,
built new family seat, Clonyn Castle, to the W side of Delvin, 1639.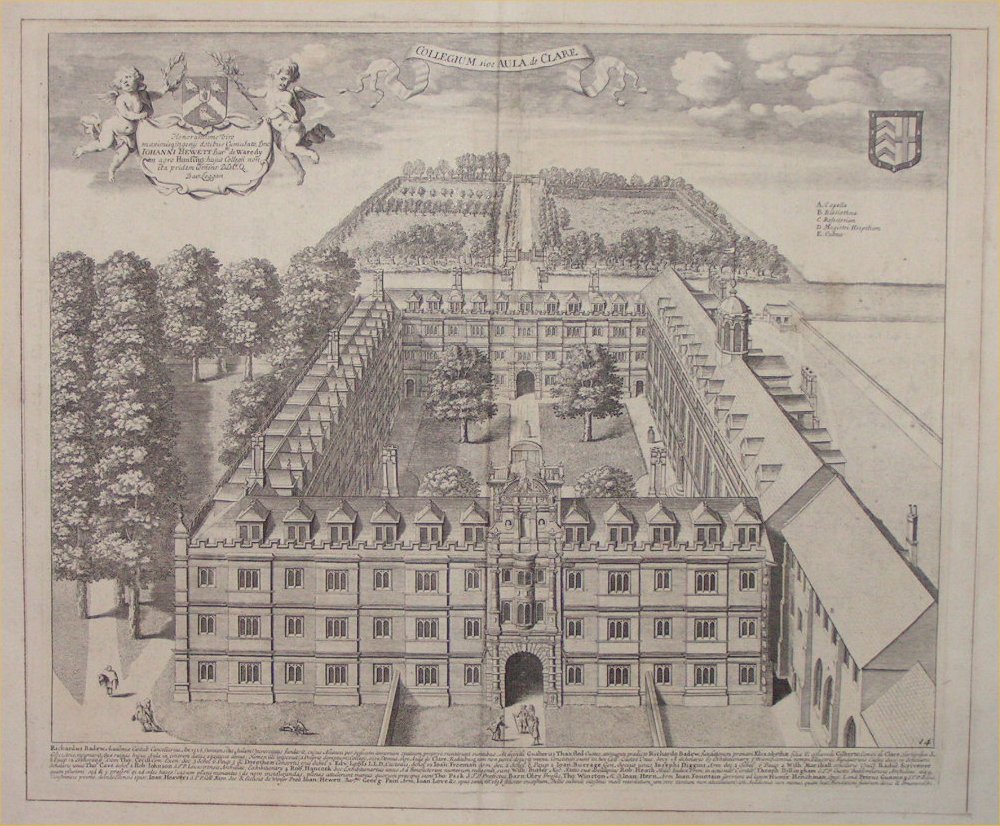 Clare Hall (Clare College), Cambridge.
Published 1690.
See
full size
. From
here
. Original from
here
.
---
16th century primer on the Irish language
Thought to be written by Christopher Nugent, 5th Baron Delvin.
Possibly presented to Elizabeth I at Cambridge in 1564 (when Delvin was only age 20).
It is now in the
Benjamin Iveagh Library
at
Farmleigh
.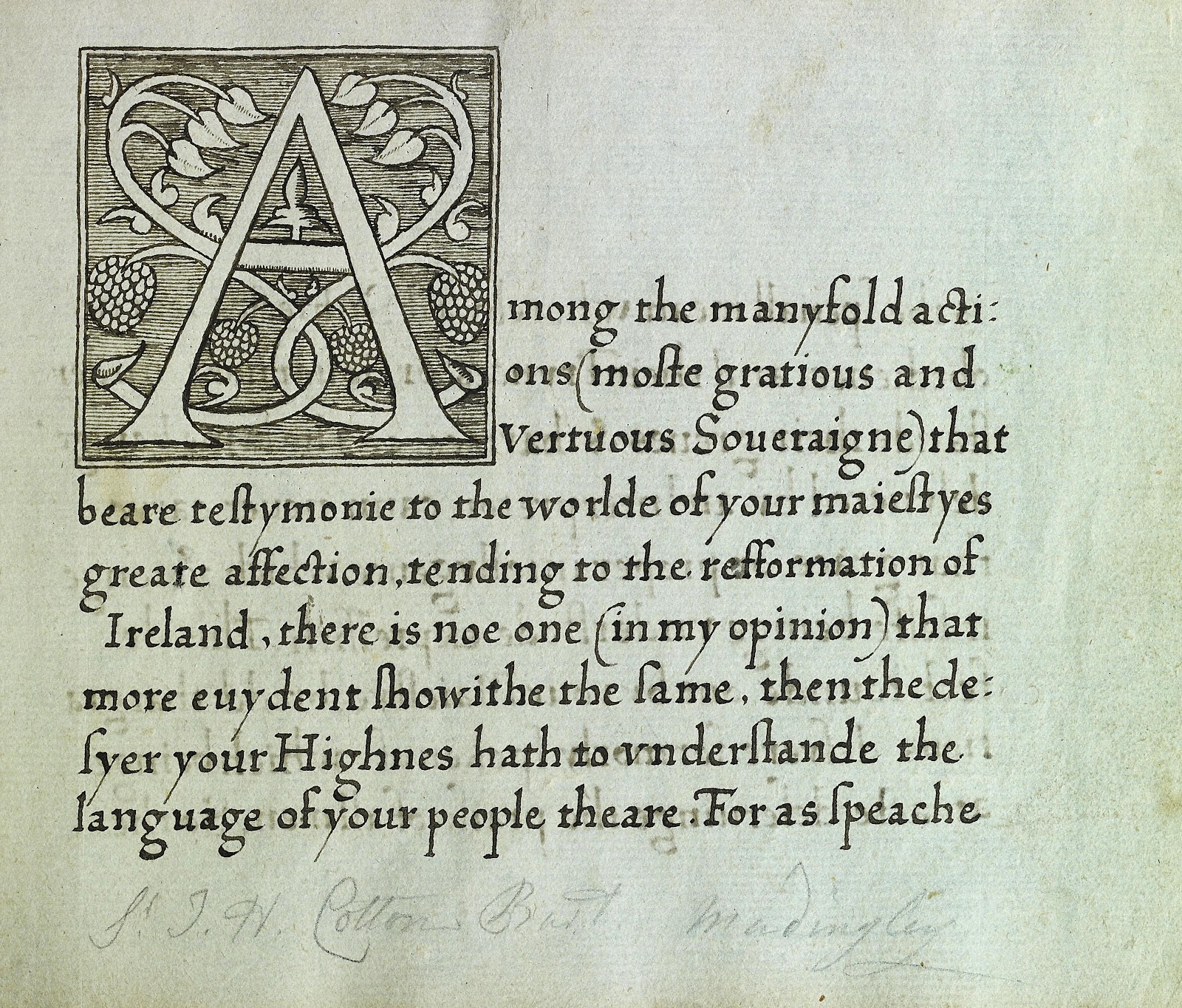 Opening page.
See
full size
. Image from
here
.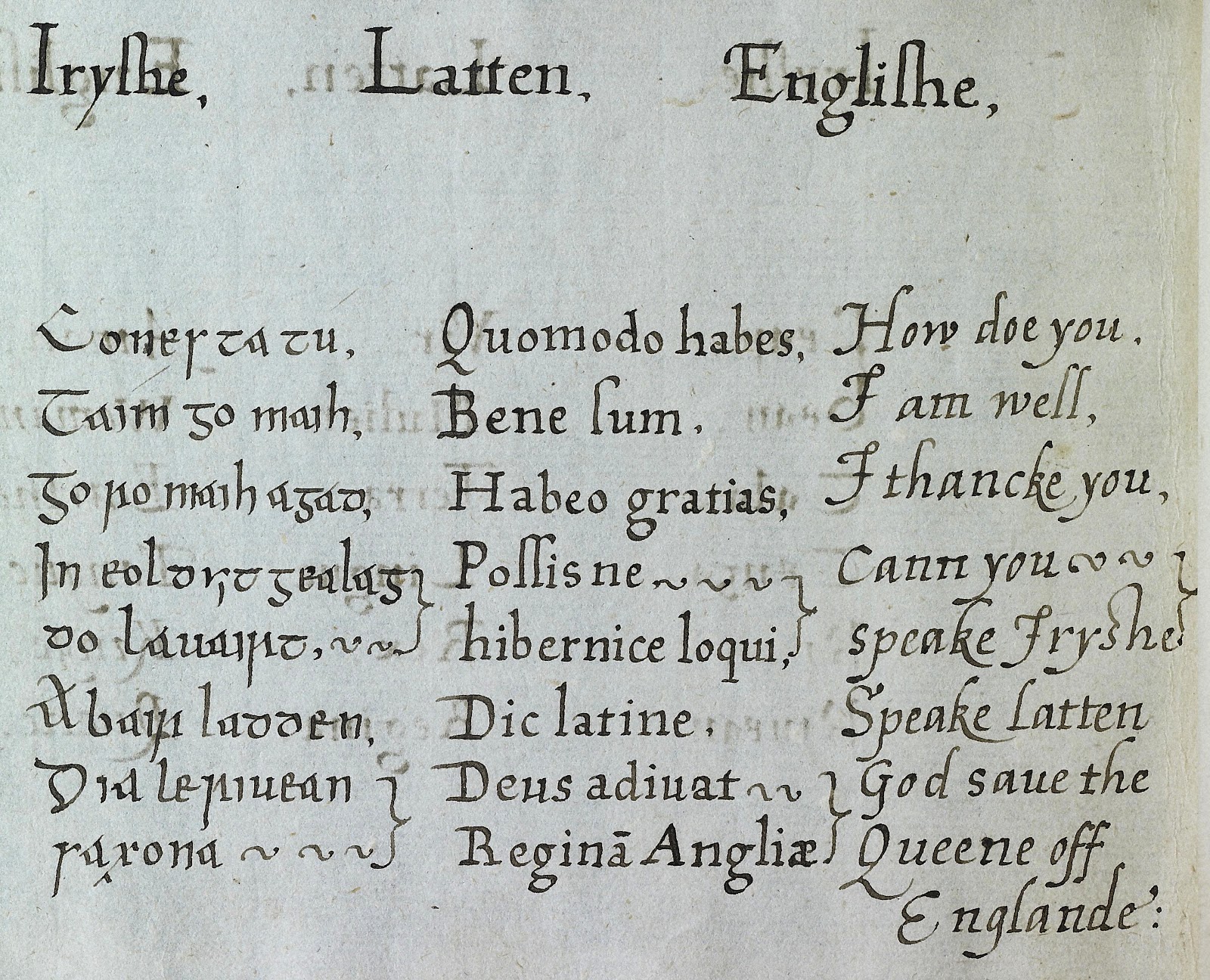 List of phrases in Irish, Latin and English.
See full size. Image from here.
---
Sources yet to be consulted:
Richard Nugent, 1st Earl of Westmeath
built a new family seat in 1639.
This was Clonyn Castle (or Delvin Castle), just W of the village of Castletowndelvin or Delvin.
This was burnt in 1649.
It was re-built around 1680 as Clonyn House or Clonin House, family seat until 19th century.
A plaque with crest of the Nugent family, date 1680, survives at the ruin of this house.
This house was replaced by a new 19th century Clonyn Castle (or Delvin Castle) nearby.
See entry in NIAH.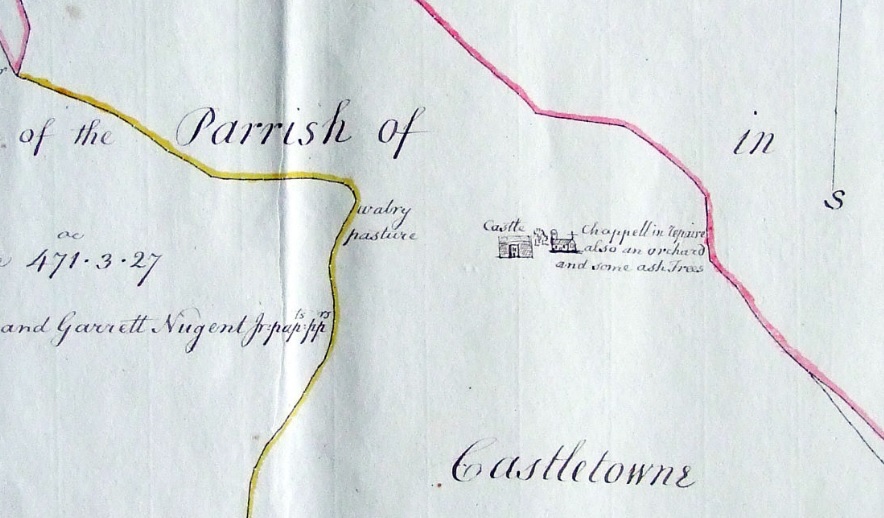 Extract from
map of "Castletowne" parish
(Castletown Delvin) in the
[Down Survey, 1655 to 1658]
.
This seems to show the new Clonyn Castle to the W of the church.
From
TCD
.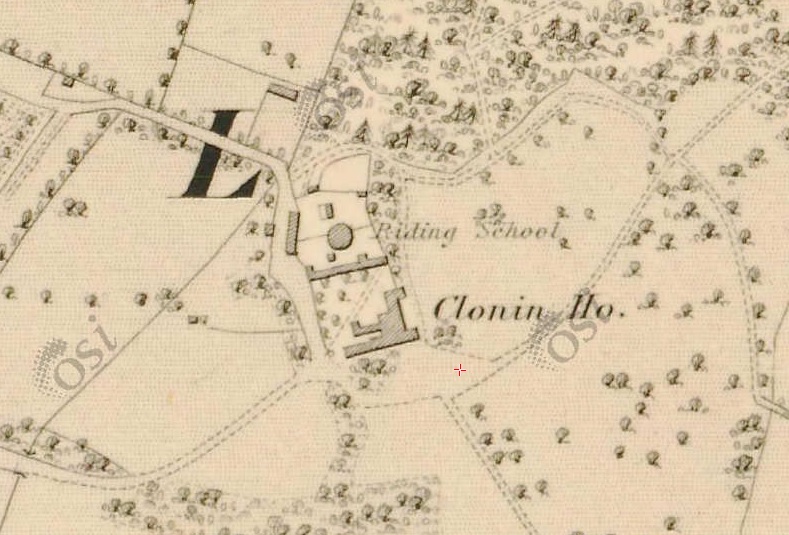 The 17th century "Clonin House" on 1829 to 1842 map.